How Does a Coffee Win the Cup of Excellence?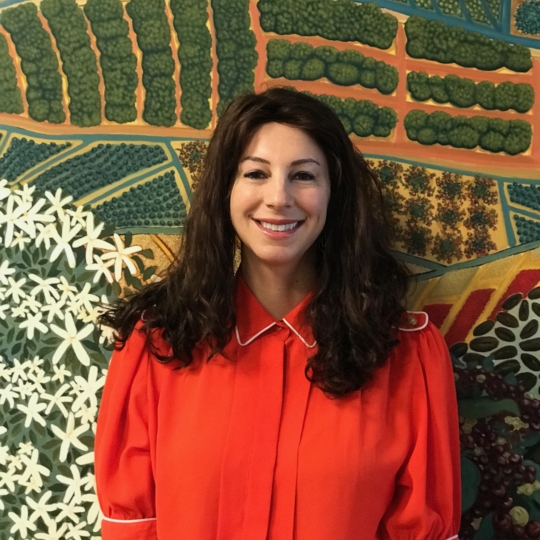 Anna Abatzoglou • November 02, 2021
The Cup of Excellence's mission is to continuously expand the discovery and recognition of exemplary coffees and high-quality farmers. The non-profit organization does this through the Cup of Excellence® competition, sensory education training, testing, research projects and other activities designed to level up the appreciation of world-class coffees.
The Cup of Excellence Competition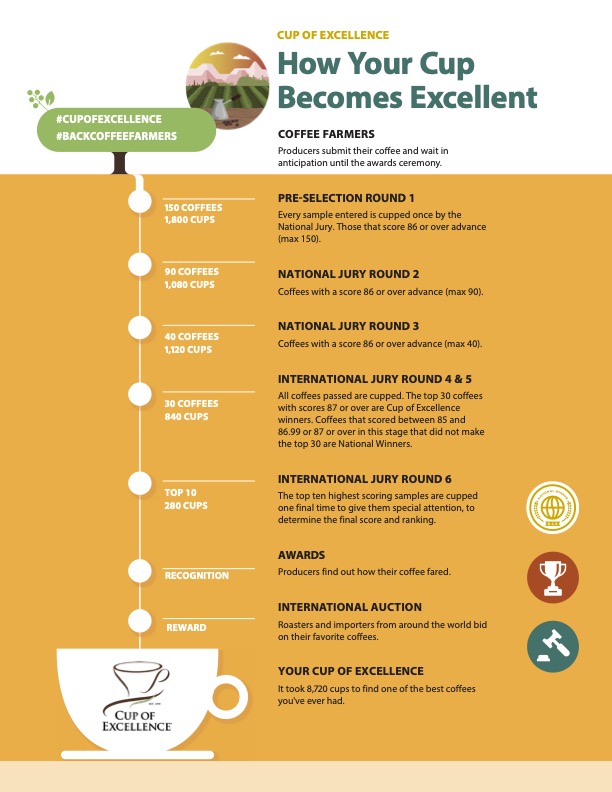 Let's start with the Cup of Excellence competition, a contest for a country's best coffees. Some call it the 'Olympics for Coffee' or the 'Oscars for Coffee.' The level of scrutiny that Cup of Excellence coffees undergo is unmatched anywhere in the specialty coffee industry.
Each year, thousands of coffees are submitted for consideration and through the competition process, a few hundred awarded as CoE coffees which are then sold on a global internet auction at premium prices. Nearly all of the auction proceeds go straight to the farmers.
The CoE competition has pioneered integrity and transparency in the coffee industry, ensuring the value of winning coffees. Each sample entering the competition process is assigned a number known only to the auditor for each competition, and each jury member cups the coffee blind. In addition, each lot is documented through the entire process so that winning coffees are traceable to the farm and exact micro-lot from which they came.
The competition is rigorous, with cupping evaluations conducted over a three-stage process by industry experts: first by a National Jury of about a dozen qualified jurors (who have included Bean Box's Director of Coffee, Maryna Gray!) from the origin country, and then by an International Jury, comprised of approximately 20 to 25 experienced jurors from around the world. Coffees are evaluated using the Cup of Excellence cupping form, designed by Cup of Excellence co-founder George Howell.
A competition with 300 entries yields an average of 9,000 analyzed cups, with each 'Top 10' coffee being cupped at least 120 times. This process ensures elite top-quality consistent coffees enter the CoE auction.
The Cup of Excellence and Its Impact on Coffee Farmers
The CoE program, including auctions held by Alliance for Coffee Excellence, has set the standard for the increased premiums that farmers have been able to receive for their top-notch coffees. It continues to build a more transparent infrastructure and gives farmers the tools needed to improve the economic model of their farms and how they get paid. With the potential funds that can be received from a winning auction bid, expansion of coffee in new markets around the world, and future direct trade relationships, the Cup of Excellence helps to incentivize and motivate farmers. They know there can be a recognition and financial reward for their hard work and effort.
Since 1999, together with a global family of coffee lovers, the Cup of Excellence has pushed to back coffee farmers and make a positive impact on the way people enjoy coffee.
The Cup of Excellence at Bean Box
Bean Box receives a limited supply of Cup of Excellence-winning coffees from time to time. Always be on the lookout for email and/or social announcements.
This post was written by Anna Abatzoglou, Managing Director, Marketing & Membership, for the Cup of Excellence.
We want to help you make better coffee at home. Our recommendations are our own, and never sponsored. If you see something you love and buy it through our links, we may receive an affiliate commission (thanks for that!).