Matthew Berk
Father, Husband, Entrepreneur • Seattle, WA
A lifelong software engineer, Matthew only developed his coffee mania in the past few years. His mornings are a glimpse into the early hours of an entrepreneur.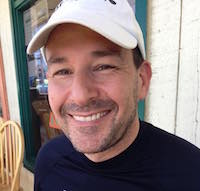 "I always put both feet on the ground, pause for 10-15 seconds, and try to feel the ground (and, I suppose, grounded)."
§ What time do you get to sleep? What time do you wake up?
I generally get to sleep by 11:30 or midnight, although I invariably run out of steam towards 9:30PM, when my son Theo gets to sleep. Every morning I wake between 6:00 and 6:30 AM, without setting alarm (am proud of that)!
§ What do you dream about?
The usual litany of topics: flying, forgetting my homework, forgetting my clothes, visiting with dead relatives, etc. When things get crazy at Bean Box, I literally dream about coffee packaging equipment, building boxes, and other Beanery-related craziness.
§ What's the first thing you do once you're awake?
Once I sit up, I always put both feet on the ground, pause for 10-15 seconds, and try to feel the ground (and, I supposed, grounded). Then I stretch my neck. Pillows are a challenge for me, so a little morning muscle maintenance goes a long way.
§ What morning ritual do you have that's sacred to starting your day off right?
My wife Maryna sleeps later than I do. Writing her a note has become an essential part of my daily routine, even if I'm at home when she does get up. It allows us to connect, even if we don't end or start our days at the same time. I usually write these notes on the backs of Bean Box 2 ounce bags!
§ What one possession/object is essential to your morning?
For the past six months, I've been using the Chemex Ottomatic coffee brewer. It's got the precision of a pour over, with the benefits of an auto brewer. It's really the only bit of infrastructure that's key to my mornings.
§ With whom do you spend your mornings?
Invariably, with my son (it's kind of our boys-only time), and our two Bengal cats, both of whom need tons of attention.
§ What do you eat for breakfast?
When I do eat breakfast (on weekends), it's mostly eggs plus something else. If I make pancakes for my son, they're hard to resist.
§ What kind of coffee do you drink in the morning, and how do you prepare it?
We're literally swimming in coffee, so I love bringing home Bean Box extras. The two ounce pouch has the perfect amount of coffee for the Chemex I use. Truth be told, I'm a big fan of medium roasts, specifically from Guatemala, Colombia, or Panama. Love notes of chocolate and caramel in the morning.
§ What's the one upgrade you wish you could add to your morning?
Had I the wherewithal (will?), I'd add more stretching and a round of sun salutations. Sometimes I'm centered enough to build the habit for a few weeks, but then the chaos of being in a startup finds a way to monkey wrench the good habit. Is laziness a virtue? No? No.
§ What do you consider the end of your morning?
Once I leave the house, my morning if officially ended. By 8AM, it's full on day for me.